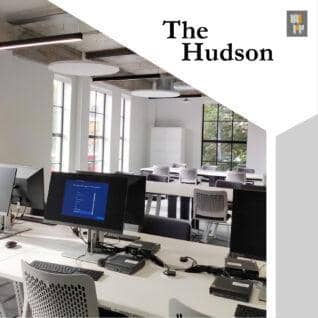 The Hudson in Vauxhall is almost ready to welcome Coventry University students. Watkins Payne was commissioned to support the refurbishment project with a Category B 'Fit-Out' scope that included space configuration and mechanical and electrical works, along with Fire Safety compliance, access control system, and Building Regulations compliance.
The base build exposed services were modified to suit the classrooms with high-level fan coil units with barrel swirl diffusers. Air source heat pumps serve the internal fan coil units with refrigeration pipework distributed down the risers. Fresh air is supplied using a central duct along the floors with extract air taken via a bell mouth arrangement.
Suspended linear luminaires provide the lighting, with them being chosen so the glare is not an issue for the student using screens. The lighting control system with occupancy detection allows the lighting to operate efficiently.
New building management system has been installed to assist Coventry University to monitor and control services within the building to better operate the building so energy is not wasted.
The rooms will be used to teach students and apprentices on Healthcare courses, providing a new London presence for the School of Nursing, Midwifery and Health.