| | |
| --- | --- |
| | Updated Building Regulations Approved Documents Parts F, L and O come into effect from 15th June 2022. |
| | |
| --- | --- |
| | Not if the works are started before 15th June 2023 and a full building notice, full plans application or initial notice has been submitted before 15th June 2022. |
What are the key changes?
Part F
Part F split into 2 document rather than 1

Volume 1 is dwellings and Volume 2 buildings other than dwellings

Volume 1 principal impacts:
Potential increase in whole dwelling ventilation rates
Increase in the minimum free areas for background ventilators
Volume 2 principal impacts:
Requires CO2 detectors for certain sizes of spaces
Increased focus on indoor air quality
Requires the provision of natural or mechanical fresh air ventilation to circulation spaces (corridors, staircases and lift lobbies)
Increase in ventilation plant costs
Potential reduction in NIA to house common space ventilation equipment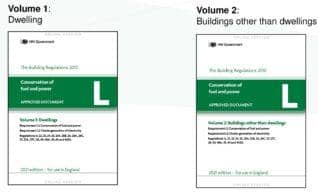 Part L
Part L is 2 documents rather than 4

Volume 1 is dwellings and Volume 2 buildings other than dwellings

Principal impacts:
Must comply with enhanced notional buildings
Improved fabric efficiencies
Less flexibility in the way buildings are designed
Potential reduction in commercial buildings NIA
Improved plant efficiencies (and therefore equipment costs)
Changes to fuel conversion factors
Analysis of high efficiency alternative systems
'Nearly net zero energy' buildings
Reduced running costs
Greener buildings
Increased facade costs (to improve thermal bridging)
Reduction in acceptable air permeability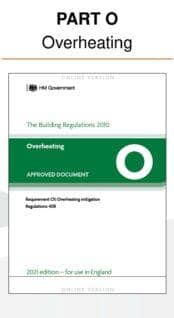 Part O
Part O has been newly introduced to reduce overheating risk in dwellings. These regulations only affect new dwellings. The aim is to mitigate overheating which is an ongoing problem with poor design and aims to overcome the issue without providing comfort cooling. The documentation provides two methods of assessment (simplified and complex) providing advice on how overheating can be overcome the principal impacts of which are as follows:
Enhanced fabric performance
Potential introduction of shutters/overhangs/external shading devices
Reduction in glazing size and glazing properties
Less flexibility with façade/building design
Increased window costs (to allow a greater number of opening windows)
Increased emphasis on cross ventilation
Increase in the use of mechanical ventilation
Increased costs and timeframe for designs to allow for iterations to overcome overheating to take place
The simplified methodology cannot be used for apartment buildings
Increased plant/build costs to overcome risks identified at design stage
Where can I find out more?
The documentation is available online or alternatively Watkins Payne are happy to assist with any further queries you may have.

You can download our version of the update here: